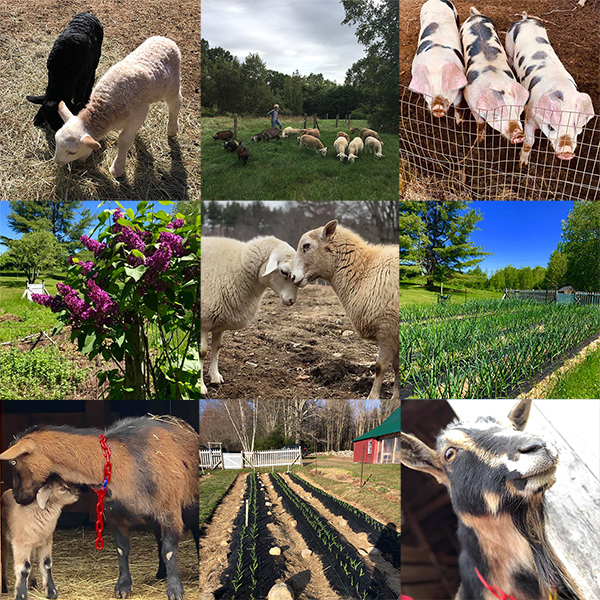 Donations to the Farm
Three Charm Farm is a truly small family farm. We do it all, from breeding and birthing to balancing the books. Maintaining equipment, milking, managing the CSA, writing our website and social media posts, running deliveries to wholesalers, cheesemaking, animal care, sewing seeds, harvesting... We also offer several outreach programs!
Your support has a huge impact. Not only are you helping our little farm, you are helping to preserve open spaces, rural farm life, and authentic food from happy, healthy animals. Your support means the world to us. Thank you.
Select your donation amount:
Select 'other' if you would like to enter your own amount.
Donations go a long way!
Ask any farmer what they need. What we need... is more TIME! How do we get time? Hire folks to do basic grounds and building maintenance, basic barn chores, installing and fixing fences, limbing trees, removing invasive plant species, and so much more. What would it mean if we had more time?
INNOVATION: We would create more products for you! We have some great ideas and experimental cheeses in the works, but we don't have the time to fully develop these products right now.
CREATION: We would create, test, and publish more recipes!! Every recipe on our site was created, tested, and photographed by family members.
OUTREACH: We would be able to offer more educational and farm outreach programs. This one is very near and dear to our hearts. We want to expand our outreach to include more programs, including virtual field trips for both children and adults, educational videos, informative and entertaining newsletters, and other downloadable resources and materials.
FUN: When Covid concerns lift, we plan to reintroduce tours, tastings, and workshops for the community!
In launching this website, we have taken a big step to bring modern communication and commerce capabilities to our 1790 farm! We have also invested in the technology (software and hardware) to offer live streaming barn cams for the public to enjoy. Donations will help in our ongoing effort to integrate and maintain technology while preserving the integrity of our farm and practices.
Gifts for our girls!
The wellbeing of our animals is our number one priority. We are always working to ensure that we are providing the most humane, healthy, safe, and best practices for our lovely milking ladies! We put in a great deal of time researching what is best, and we work closely with veterinarians and dairy consultants to ensure that we only choose what is best for OUR animals. There are always new animal care products and technologies that can assist us in this effort, and we always have a running wish list for our girls. You can view them below!
---
Other ways to help
There are many other ways to support the farm!
Buy and request our products at local markets and restaurants.
There will be many more ways to help (coming to an event, volunteering, etc) when Covid finally passes.