Ingrid Claesson and Edward Sabatini (along with Ingrid's son Nicklas, then 12 years old) founded Three Charm Farm in 2012. As a small family farm, we raise Mini-Nubian, Nubian, and Nigerian Dwarf Dairy goats and a variety of dairy sheep. (We also have pigs, cats, dogs, chickens, and turkeys!) We take pride in providing a peaceful, loving structure and daily affection to our animals while also living in peaceful coexistence with the surrounding wildlife. Several of our abutting neighbors also provide access to their land at no charge so that our animals can naturally maintain the land—we are so grateful for their support!
Our animals enjoy various pasture units and small wooded areas (for rotational grazing/browse) and are given a diet of garden herbs and vegetables, grains, kelp, minerals, and the highest quality hay to ensure their health and happiness. We raise our animals with a holistic approach to their health, the micro-environment, and as an integral part of the preservation of the farm.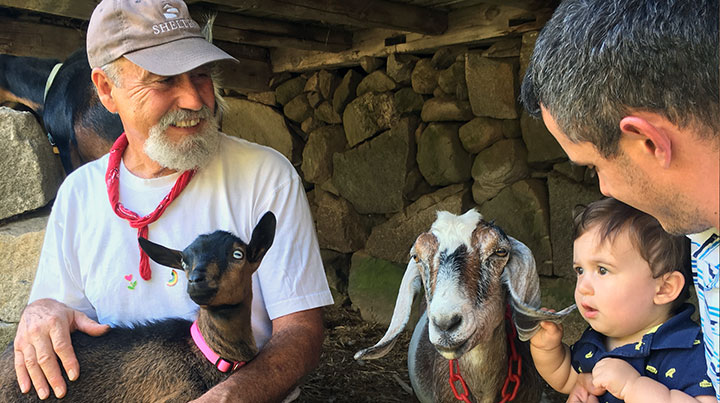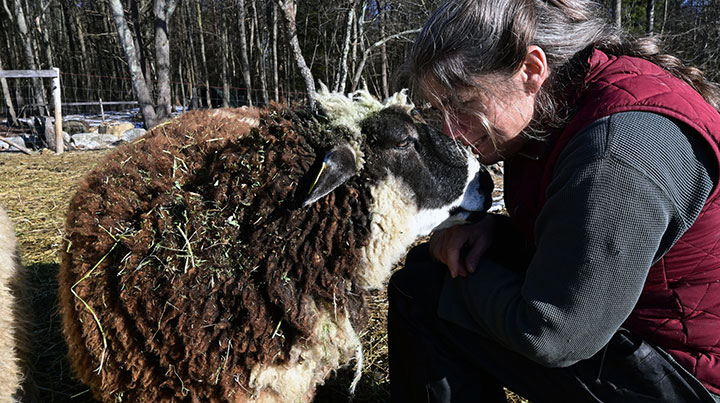 From mid-May through the first of November, we create small-batch artisanal cheeses and farmstead yogurt with the help of our lovingly raised goats and sheep. Our products are available through our cheese CSA, by special order, at select farms and markets, and on the menus of a few fine restaurants in the area!
We are members of the Miniature Dairy Goat Association and the Maine Cheese Guild. We also collaborate with the USDA's Natural Resources Conservation Service to ensure that all of our practices at the farm are environmentally responsible.
about the farmhouse
Our farmhouse was built in the late 1700s by Levi Hutchins, a Revolutionary War soldier who fought and survived the Battle of Valley Forge. Following the Hutchins family, the Fernald family was next to occupy the home for about five generations. It was then purchased by the Jacobsen family in the 1950s and remained in their family until they sold it to us in 2012! We feel fortunate and honored to be able to continue the tradition of farming in this historic home, to be a part of the preservation of this historic place, and to be able to share our mission with the community, both with our products and through outreach.
---
The painting of the farmhouse above (and the inspiration for Three Charm Farm's logo) was created by Edward Sabatini for his and Ingrid's wedding invitation.